XEN came to the crypto space as a free-to-mint token without any custodian, allocation, or governance process to manage its growth. Everything that's happening around XEN is a grassroots movement stemming from passionate individuals minting the token who believe in the power of a currency based on the first principles of the blockchain like self-custody, decentralization, and transparency. Here we review some of the projects building around XEN.
Disclaimer: The projects described below are for purely informational purposes, don't constitute an endorsement, and haven't been checked for security.
Popcorn DAO is the first DeFi platform that has enabled a XEN staking pool with rewards in the POP token. Popcorn is a multichain DeFi wealth manager that offers exposure to liquid asset strategies that not only earn a competitive yield on your crypto assets but also fund nonprofits and social impact organizations at no additional cost to the user. They make it easy for you to deposit your crypto, optimize your yield, and create positive global impact at the same time. XEN users can stake and un stake tokens at any time without losing any of their principal. The rewards in POP are distributed pro rata to every XEN staker. This means that the fewer users there are in the pool and the larger their stake, the more they get.
The innovation brought by Popcorn is that it funds community-selected nonprofit and social impact organizations without incurring any additional cost to the user.
Dune is a well-known analytics website where users can create and share their own charts out of the data they provide. There are many XEN Crypto related stats, but they're not exhaustive and sometimes the data differ from that provided by other websites like for example etherscan.io. Jozef Jarosciak saw an opportunity in creating something ad hoc and built a XEN-only website focused on providing all kinds of XEN data in the form of charts. You'll find price-related charts as well as statistics regarding smart contracts. But this is not all because xen.pub includes also data about burned gas and the relation with ETH supply, average cost in USD of different XEN Crypto smart contract functions, other general stats and also those you will not find anywhere else like the number of unclaimed XEN for example. Xen.pub also provides a calculator to calculate XEN rewards. Faircrypto.org, created by Jack Levin, has always had this calculator, but Jarosciak provides an easy way to calculate rewards for up to 128 VMUs, which will be handy with the upcoming XENFT launch. Jarosciak is in the process of expanding the website, and he's currently working on a wallet checker where you will enter the public addresses of the main account from which you've funded your XEN accounts, and it will display all your XEN account stats.
Cointool.app is the most popular XEN batch minter. While you can mint XEN for free on the official xen.network website, Cointool app lets you mint XEN Crypto in bulk with many accounts simultaneously. It's a very easy and fast way to mint XEN that saves you a lot of time and hassle because you don't need to create many separate accounts to mint more XEN, but it's enough that you indicate the number of accounts you want to mint with and the number of days. When you confirm, the contract will create for you all these accounts under the hood. When you come back to claim your XEN, you will use the main account you used for minting, and you will get all your tokens. It's possible to download a CSV file of all the data related to your transaction. Cointool lets you batch mint on each of the 10 chains that XEN exists on. The tool doesn't charge any additional fees. There's some worry about the tool not being audited, but it's been in use since XEN's inception and is vetted by many community members. The contract is open-source and immutable. The owner of the website has released instructions in case the front end goes down, which can be seen here.
This website is similar to Cointool because it comes with all different tools that are very handy but not specifically related to XEN however it is very used by the XEN community, especially the Asiatic one, to mint XEN in bulk. With the mct.xyz batch minter, you can insert the number of accounts and days to mint XEN with the power of multiple accounts with just one click of a button. It appears that it's possible to batch mint only on Ethereum and that the tool wasn't audited. This doesn't stop people from using it for batch minting XEN en masse. Once you're on their website, take a look at other tools they provide related to NFTs, gas-related tools, and many others. They already have some kind of XEN NFT batch minter, but the official XENFT code hasn't been released yet. It's good to see people being proactive and coming up with tools on their own.
While other batch minters are limited to 128 addresses per batch, Robot XEN goes even further and makes XEN minting at scale fully automatic. The only limit is your economic energy measured in gas. You create a task for the RobotXEN where you set how much you want to spend for gas, the mint term, your gas fee tolerance value and the Robot does everything for you. If the gas fee exceeds your tolerance, the RobotXEN will stop minting until the fee returns to your level. The task can be stopped at any time, and you can withdraw the remaining deposit. Creating a task costs a fee, but minting one does not because every network requires a fee for using it. RobotXEN is open source, and the team is looking for an audit. Unfortunately, RobotXEN can't be used on Ethereum. The only chains available for now are OKX Chain, Polygon, Fantom, ETHW, and BSC.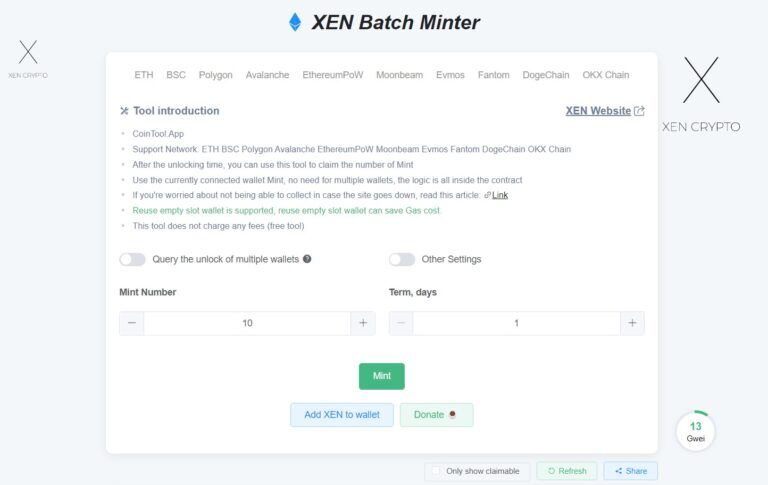 XEN Crypto accounts monitors
XEN Crypto account monitors were one of the first tools to appear as a way for the community to easily retrieve data about their mints. XEN Turbo, previously known as Cryptocell, took the lion's share of the market because of the quality of their estimating tool, account tracking system, and alerting system. XEN Turbo calculates for you the estimated total cost in gas to mint and claim XEN. It also shows you how many days are needed for your mint to cover the expenses on gas, but most importantly, it gives you the ability to calculate yourself the total cost and amount of your XEN at a specific date in the future. Obviously, the data is provided based on the current price of XEN and the current price of gas, and the real future price is unknown, but it gives you an estimate of the present cost of minting and claiming XEN. It's possible to visualize the data for Ethereum, BSC, and Polygon. On the same website, you will find the claim monitor, where you can paste all of your accounts to visualize your mints and their progress. It is necessary to provide an email to use this. The user can have an email sent when the mint term ends. XEN Turbo is preparing for XENFTs launch, so you'll be able to see your NFTs there too.
Xenmon, built by Ludolphus, is focused on providing XEN account monitoring capability to the users without the need for any login or wallet connection, which is great for privacy. They provide all kinds of monitoring that XEN Turbo doesn't, like, for example, XEN stake monitoring, monitoring of XEN accounts on all the chains, account backup and restore files to quickly add your addresses in a different browser, as well as a XEN mint calculator for every chain and not just Ethereum. Adding 500 addresses for monitoring takes just a few seconds, and the data is stored locally in your browser. You can optionally name each address. Xenmon makes you remember your mints because you can easily set a date with an alarm in the calendar field.
This XEN mint tracker makes you see your XEN on eight chains. You add an address, and it immediately shows you XEN on all the blockchains. It's as simple as that. They have XEN minting in beta version. This is going to be an alternative dashboard to xen.network.
Liquid XEN is similar to watch.xenhub with the difference that you need to login with an email first to be able to add your addresses and see your mints and claims.
This is an official website created by Jack Levin and his Fair Crypto Foundation team. Here you mint and claim XEN and XENFTs, view all your accounts, and all the new chains that get added.
Xen.fyi is another minting frontend for the XEN Crypto smart contract; in other words, it's an alternative interface to the official xen.network website. What's different on xen.fyi is the possibility to see on one chain the Global Rank for all the blockchains. The dapp was developed by Joe Blau.
This is the minter that you can find on this website. We're commited to educate the community about XEN and the whole ecosystem as well as providing an alternative interface to minting XEN.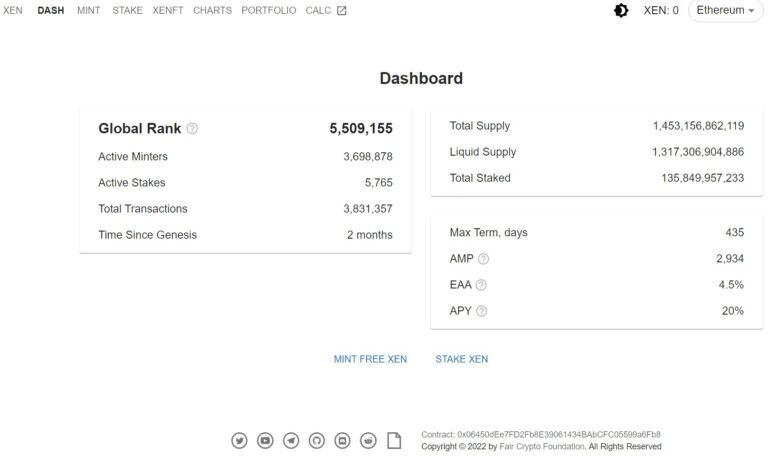 The Rock Paper Scissors game created for XEN is a player vs. player game on the blockchain. You can play as little as 50,000 up to 100 million XEN. You indicate the number of XEN you want to play, choose your hand, and approve. You win or you lose – it's that simple.
Last but not least, come the XENFTs! This project is being created by Jack Levin and his team. XENFTs are based on the XEN Torrent protocol and the ERC-721 contract. XENFTs are NFTs containing your XEN batch mint with up to 128 VMUs (Virtual Minting Units). There are three categories of XENFTs: Collector, Limited and Apex.
Collector category lets you batch mint XEN and depending on your VMUs count and the mint term you chose your Collector NFT will have assigned a special Power.
Limited and Apex categories require a mint with at least 100 VMUs and a XEN burn. It's possible to create XENFTs from Limited category only during one year after the launch.
The Apex category has 5 classes, and each of them is limited by the number of tokens burned and the number of possible NFTs in each class. Below is a table with specific burn requirements for each category and class.
XENFTs is the meeting of the XEN Crypto abundance with limited availability and the rarity of NFTs. Burning huge amounts of XEN to mint a XENFT is also a play of two forces: the destructive power of the burn function and the generative principle of the XEN Crypto smart contract.
XEN Burn is a project that makes use of the burn function, where each XENB buy or sale will also burn some XEN. XENB is a token with fixed supply that was entirely closed in a Uniswap liquidity pool after launch. XENB works as a market for XEN with buybacks and burns. When you sell XENB, the contract automatically buys and burns XEN from the transaction tax you're charged with.
The education about XEN doesn't make direct use of the XEN Crypto smart contract just yet but it's an essential part in educationg the users about the technology and different use cases of XEN. The Fair Cyrypto Foundation is at the forefront of providing the best resources in the form of Xenpedia, Xenducation, the international network of Telegram channels and through Jack Levin himself.
Xenpedia and Xenducation were created by XEN TZU of the Fair Crypto Foundation. Xenpedia provides educational content in the form of written content, and Xenducation is an all-XEN YouTube channel with tutorials.
Mr. Jack Levin is the generative principle of XEN and the source of knowledge, providing education and updates to the whole XEN Crypto community. Follow him on his Twitter or YouTube channel.
Xencrypto.io is the community website providing articles and reports about everything XEN as well as updates from Jack Levin and video tutorials.